Hello, friends! What says the beginning of fall better than a BLOG HOP! Okay, okay... a pumpkin spice latte says it pretty well, too. Maybe I will head there later. But, in the mean time, I am linking up with
teachingmythree.com
!
As an extra note~ Winners have been chosen for the Wowzers, What a Winner! Giveaway! You can check them out here. All winners have been sent an email. If you were a winner but did not receive an email, please send me one at learning4keeps@gmail.com. Thank you!
To celebrate the change in seasons, we are posting all things Autumn! You might find crafts, recipes, teaching resources... who knows?! Here, I will be sharing some of my teacher resources since baking is not my forte and crafting only comes in spurts after cruising through way to many Pinterest pictures. :) But I digress, cruise through this post to find resources you can use in your classroom and a couple of freebies at the end!
This Leaf Activity pack is a brand new resource that I am excited about! It is an activity pack focused on leaves that include writing, math, and art projects. You can visit my TPT store to find out more by clicking on the picture below:
Next up is a Fall / Autumn Literacy and Math Unit! I introduced this pack a few weeks back which you can read about
here.
I love this pack because it includes lesson plans and projects for three autumn books (which can each be bought separately in my store), writing activities that focus on the writing process, and math worksheets that can be easily included in homework, centers, or seatwork. Click on the picture below for more details!
Next up is a Spooktacular Halloween Math Practice pack that reviews 3rd grade concepts. Depending on the student's level, it could be used in 2nd-4th grade. All sheets also include keys for easy grading. Check it out here
Thanks for cruising! (Can you tell I have Carnival Cruise on the brain? 2 more days!! Woohoo!) Here are a few freebies you can enjoy that also celebrate the season!
Also available for free is a Fall Worksheet pack that includes 4 worksheets! Check it out by clicking below!
Now, I hope you will hop around to find other great Fall items!! Happy Fall Ya'll!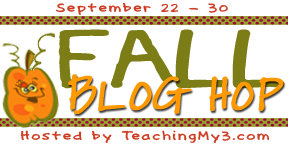 <div align="center"><a href="http://teachingmy3.blogspot.com/2012/09/fall-blog-hop.html" title="Teaching My 3"><img src="http://i1146.photobucket.com/albums/o527/hlpharris/fall-blog-hop_zpsc925475e.png" alt="Teaching My 3" style="border:none;" /></a></div>