Hello, friends! I have been really looking forward to sharing with you the Math program that I have been using with my preschooler. It has been one of my favorites to review and I have been over the moon with the progress my little learner has made. Today, I will be reviewing the
Preschool Math Curriculum
by
TouchMath
.

Description: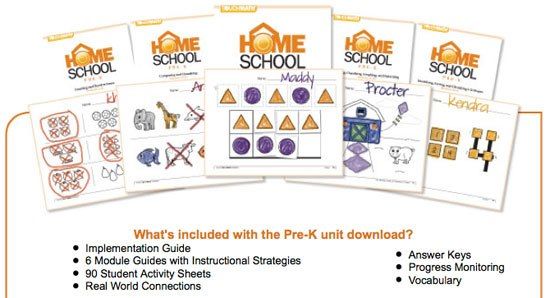 The TouchMath curriculum is a resource that is available for not only homeschool families but also the public school systems. It incorporates manipulatives and worksheets to offer a hands-on learning experience. For the sake of this post, I will be focusing on the Pre-K program as this is what I used; however, you will not want to miss checking out the programs for the other grades. TouchMath offers so many multi-sensory products that are not only great for regular educational students but for kids with special needs as well. It offers a tactile approach to learning and working with numbers.
The program is based upon a number system that is displayed with dots to represent one-to-one correspondence. For example, the numeral one has one dot, the numeral two has two dots. After you reach the numeral five, the students touch dots more than once and are taught the pattern to do this correctly. Here are the products that I used in my review:
Curriculum ($59.95)
Implementation Guide to show me step by step how to use this program effectively. This describes in detail the skills, approach and research.
6 Module Guides with Instructional Strategies: These are your descriptive lesson plans that give you confidence in using the program. It provides the questions to ask and ideas to expand your learning. They give pictures of which worksheet to use for each lesson. The PreK lessons were quite short as they suggest only working on the subject for twice as long as their age. For instance, Lillee is three so it is suggested that she work on her Math for 6 minutes a day. However, I found that each lesson provided a thorough process.
90 student activity worksheets for students to practice.
Supplemental Resources
Texture Cards ($99.00) - highly durable, over-sized flashcards that represent the touch numerals in five different themes. It allows for a multi-sensory approach to learning numbers. I highly recommend this manipulative as I used it every day with much enjoyment from my Preschooler. It is a highly effective resource to integrate into your daily lessons. These could be used with the program or on its own.
TouchShapes ($30.00) - This 108 piece pack includes 6 shapes offered in different sizes and different colors. It is a great tool to use with the worksheets to practice counting as well as to use for categorizing and learning shapes. It could be used with the program or on its own.
3-D Numerals ($79.00) - This was the first part of the pack that my daughter wanted to use. These 6" plastic numerals are wonderful and exciting ways to practice recognizing numerals. We had so much fun using these.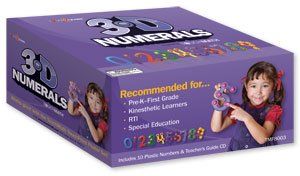 3D Numerals
Routine:
Each day would begin with my little one begging to "do her numbers." This was the first thing we would do together each day. We would start by using the flashcards to discuss her numeral of the day. I focused on one numeral for several days before adding another. We would work on recognition and counting. I would then use the lesson plan and the corresponding worksheet. The lessons offer great guidance and ideas to extend the learning or review previous lessons. A recording sheet is also available for each module of learning that is used to record when your child completed each lesson in the module as well as how they did. My little one never wanted to stop at the 6 minutes suggested by the vendor and would often want to do more than just one lesson. So, we would often do extra. I would use the touch shapes, cards, and 3-D numerals to accent the lessons throughout and add excitement.
The supplemental materials are not required to use the product successfully; however, I would highly recommend taking the plunge. It will be resources that you can use many times and in future grades. It is definitely a good investment as they are made from durable materials that will last.
There are other resources available that would be excellent to add to your program. A thorough exploration of their website would give you a great idea as to what is available in each grade.
Homeschool Programs are available from Pre-K through Second Grade.
The Pre-K curriculum focuses on the following topics:
Counting and Number Sense
Comparing and Classifying
Sorting, Graphing, and Patterning
Identifying, Classifying, and Sorting 2-D Shapes
Identifying, Classifying, and Sorting 3-D Shapes and Coins
Representing Quantities and Shapes
My Thoughts:
I am a new fan of TouchMath! For my tactile learner, this was a fantastic resource to use each day. I have noticed great improvement in my daughter's counting skills and she now recognizes the numerals 1 through 5. I am a results kindof teacher and like to see growth. With TouchMath, I have noted steady progress in my daughter's Math skills and even better, I have never had to struggle in getting her actively involved in each lesson. I would highly recommend this fabulous curriculum!



Disclaimer
: I received a free copy of this product through the Schoolhouse Review Crew in exchange for my honest review. I was not required to write a positive review nor was I compensated in any other way. All opinions I have expressed are my own or those of my family. I am disclosing this in accordance with the FTC Regulations.