If you are around me for very long, you will find that music plays a huge part of my life. I have been singing in front of crowds since I was old enough to stand on my own, and piano lessons began early as I watched my Mom play away almost every day. I have had lessons and learned to play much by ear; however, it is my husband who is the real prodigy. He can play almost anything he hears. When I say anything, I mean anything!
This musical gene has passed down to my girls and I am happy to say that I see their musical skills beginning to develop and their playing by ear is becoming keen. However, we don't want them to only play be ear; we would like to see them excel in sight reading and musical theory as well. So, I was so excited to get the opportunity to review an interactive computer software called
MusIQ Homeschool
by
Adventus
.

Description: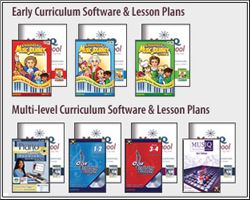 Adventus is the developer and publisher of piano software for both homeschools and schoolrooms. I was given the opportunity to review the homeschool curriculum and let me say, one post could never do it justice. There is so much to this program! It is a comprehensive software that is downloaded onto your computer. You will need a keyboard with MIDI capabilities and an adapter to connect your keyboard to the computer. This will allow your child to actually interact with the program. Here are the program options that can be chosen:
Children's Music Journey- this software is available in three different versions that increases in difficulty for each year. This is best for ages 4-10. Each level offers 25-35 lessons by great musicians and composers such as Bach and Beethoven. It includes games, theory practice, printables and interaction in order to make learning the piano fun!
Piano Suite- this software is around 4 years of instruction and would be best for ages 10 and up. It includes five skill levels and three different learning methods. 500 pieces of music are available in the library and ranges from classical to more recent hits. It offers narrated lessons on music theory, notation, sight reading, and playing.
Ear Training Coach- It is suggested to begin using this curriculum during the second year of the Piano Suite. It offers thousands of activities to enhance aural perception and sight reading ability.
MusIQ Challenger Game- a strategy game for advanced music theory.
Routine:
I wish that I could say that I had a steady routine with this program; however, my children are musical prodigies and computer fanatics. Marry the two together and we have educational bliss. I imagined that my girls would beg to take their piano lessons more than once a day and would want to stay on for quite some time. I was not disappointed. However, this is the beauty of the program. You are able to self pace and each child can work through on their own. It does require some oversight but as a whole, it can be completed independently, though you will find "independent" piano lessons become group lessons as many want to watch and play along. It really becomes a group effort at times!
For the Children's Music Journey, they begin on the main menu which is colorful and simple to read. They begin in the lesson room to learn their lesson from a famous composer. Next, they travel to the practice room to put what they have learned into practice. They would then go to the game room which is full of games that teach different aspects of music. Games are unlocked as the student proceeds which is fantastic as it encourages students to continue in the lessons rather than always playing with the games. Finally, a music library is available that stores the songs the children created in the improvisation rooms or songs by the teacher, reviews lessons, and provides more practice activities.
My suggestion is to begin with the Children's Music Journey and walk your way through. They offer a monthly subscription that allows access to all 9 programs! It is inexpensive ($10.95 a month) and you can set up several users at once! This program was a fun way to begin learning piano theory for all three of my ladies (ages 3-11). I just simply allowed them to walk through at their own speed. I wanted to insure that there were no learning gaps as my girls proceeded. These early stages were a bit mundane for my eldest but she quickly proceeded to more challenging activities and lessons.
Good to Know:
This software is for beginner to intermediate students.
You can purchase a monthly subscription as stated above that will allow unlimited access to all nine programs. Also, they provided discounted MIDI keyboards if you do not currently have one. I bought my daughters a keyboard within the past couple of years and it already had MIDI capabilities. You might want to check your current keyboard by looking in the back for a MIDI output. You will also need an adapter that will run from your MIDI output to a USB port on your computer. I, personally, bought one here and received it within a couple of days!
Lesson Plans are available but are sold separately. They are not a necessity; however, it is very helpful in pacing your child's progress and is easily incorporated into your current homeschool lesson plans or into your child's portfolio. They include lesson objectives, printables, quizzes and assessments.
You will need to check system requirements here to make sure your computer is compatible. I had very little problems downloading my software and had to troubleshoot one minor issue. Adventus tech support is very helpful and will be a great resource for you should you have any problems.
Adventus offers a FREE 7-day trial for you to check out their program and determine if it would be a good fit for your family!
Check out this fantastic video for a peek into Children's Music Journey I.
My Thoughts:
As a music lover who was once a piano teacher, I feel that nothing can quite take the place of a living, breathing instructor who can not only teach but also be an example for you. However, this program comes very close. It takes the beautiful history of music and weaves in piano theory in a fun and captivating way! Children enjoy learning
about
musical giants as well as
from
musical giants. They are given the opportunity to appreciate classical music and the opportunity to explore current hits. There is even a section where they can create and compose their own music which was a big favorite in our house! If you are looking for a fun and interactive method of teaching piano theory without the huge price tag, I would say that Advantus would be a great choice for you! You might find that you will also learn a few things on the piano as well! ;) If you are interested in what other homeschooling families thought about the program, please click the link below!