Much to my eldest daughter's excitement, I was given the opportunity to review a writing curriculum that was just for her! She had been eagerly awaiting her opportunity to try something new and I was thrilled to see that it would be with the subject of Writing. She had completed her English and Grammar for the year so I was ready to move onto focusing entirely on her writing skills. Cue the music and enter: the
6th Grade Writing Curriculum
by
Essentials in Writing
.
Description
Essentials in Writing is a complete language arts curriculum that focuses on writing composition. The primary focus is to observe how grammar is actually used in communication and how to become an effective writer. This curriculum was created by Matthew Stephens, a former Middle School English teacher with experience at all grade levels. His process is to present small amounts of content before modeling the process and then allowing the student to work independently. The curriculum includes not only worksheets and assignments, but also videos of Mr. Stephens teaching the material in short lessons. The first half of the year focuses on grammar and mechanics while the last half of the year shifts its focus to composition.
For sixth grade, the following topics are covered:
detailed sentence structure
grammar
capitalization and punctuation rules
proper use of a friendly letter
composing narrative, descriptive, expository, and persuasive writing
five paragraph essays
compare and contrast writing
effective writing skills
multi-paragraph composition
the research project process
other forms of written communication
and more...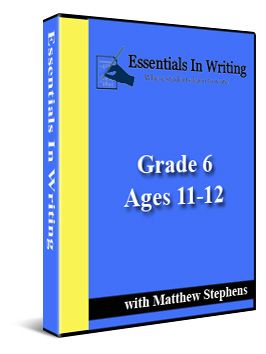 Routine:
Em would begin her lesson by grabbing her writing folder and heading to her bedroom. She has a personal television and DVD player set up in her room and she enjoys the privacy while she works. She would watch the DVD lesson and complete the corresponding worksheets. The lessons are not very long and yet they were very effective in teaching the material. Em completed all of her work independently without needing much assistance from me. Mr. Stephens teaches in an engaging way and she never dreaded her writing time. In fact, I found that she eagerly approached this part of her day.
A sample video of a lesson can be found on the website.
It is recommended that if a student doesn't fully understand a concept, they should watch the video again before moving on to the next lesson. I found that Em only had to do this once as the rest of the time she quickly grasped what Mr. Stephens taught.
After watching the lesson, she would then work on the independent assignment. Though for some lessons there would be several days of independent assignment to complete, Em chose to complete all of them in one day. It was not labor intensive and she enjoyed the lessons enough to complete more than one assignment.
For a sample day, be sure to visit here.
As the year is split in half, I allowed Em to do several grammar lessons from the late grammar lessons to get a feel for the program before jumping into Lesson 34 to begin working on composition. I intentionally chose a few topics that I know she hadn't covered in her Grammar for the year. She responded very favorably to the curriculum and I was excited to see how she would do once the focus shifted to writing. I was amazed to see the growth that began to take place almost immediately. She brought her writing assignment for me to look over after her first lesson on descriptive writing and I could immediately tell a difference. She had great detail that was both imaginative and fun. As she progressed through the lessons, her writing continued to develop and I found her one afternoon on the computer writing a short story on her own, not an assignment or requirement. She simply wanted to write! In reading her narrative, I noticed that the mechanics that were once lacking were very evident. She was using what she had learned to enrich her daily life. This, my friends, makes me smile! She proceeded to type up the narrative on Powerpoint, add pictures, and create a short book. This narrative will hold a proud place on our library shelf.
Good to Know:
The program provides an instructional DVD as well as a PDF file that contains the the worksheets and assignments. If you would like to save your ink, pre-printed workbooks are also available to purchase. I used the PDF file and simply printed around 20-30 sheets at a time and placed them in Em's writing folder. You could always print the entire file and place it in a binder if you would like the worksheets in book form.
First through eleventh grade is currently available while twelfth grade will begin shipment in August. There will also be two high school elective courses available soon!
A full-year's curriculum will cost $40.00 and the optional pre-printed workbook is available for $20.00.
My Thoughts:
If you haven't already noticed, I have really enjoyed using this program and am even more impressed that it is available in such an economic fashion. Writing is a vital skill and it's instructional value cannot be understestimated in that it will impact our student's educational futures. I am confident that this curriculum will help build a strong foundation for Em and I look forward to using this product in the future.



Disclaimer
: I received a free copy of this product through the Schoolhouse Review Crew in exchange for my honest review. I was not required to write a positive review nor was I compensated in any other way. All opinions I have expressed are my own or those of my family. I am disclosing this in accordance with the FTC Regulations.