Hello, friends! I woke up this morning feeling ready to have another If You Can't Be Deep, Be Funny linky party!!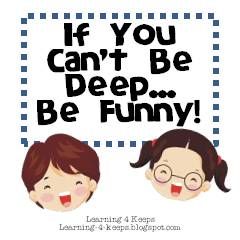 I had so much fun with this last time. It is great to giggle on a Wednesday, isn't it?! This time I have added another great feature! We will be voting on the funniest link! Here's how it will work:
1.) Blog about your favorite funny pics from Pinterest. Grab my button above to add to your page and encourage your bloggy followers to vote!
2.) Come back here and link up!
3.) Explore the other funny links and voting will begin on Monday for the funniest link!
4.) Voting ends on Wednesday and a winner will be announced! Winner will receive any item of their choice from my store!
The theme for this week: THAT IS SO ME!
Here we go!
Haha! Yep!
Every time!
Finally, someone gets it!
Oh, yeah!! This is so me!
Tehehehee...
uhum.... I have been saying this for years!!!
I knew this was a super power!!! I am so relieved! Whew!
Oh yeah! I have so done this!
Now, it's your turn! A recap of the steps are listed below. :) Have fun!