It's another Freebie Friday and I am offering an Open House packet that includes a foldable triangle table-top sign, a sign-in sheet, a student interview, a parent interview, and a scavenger hunt. I hope it is a help to you during the busy Back to School rush! Click
here
to get this download at my TeachersPayTeachers store. Click
here
get this download at my Teachers Notebook store!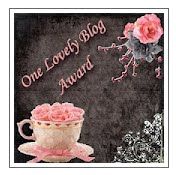 In other news, I was so excited to see that I had been given the Lovely Blog Award by two lovely bloggers! Lesa at
Moore News: Hoppin Into Second Grade
and Donna from
Working 5 to 9 Math
have honored me this morning! I am so glad that you like my little corner of the Bloggy Universe! Thank you so much ladies!
So, here are the rules for accepting the One Lovely Blog Award.
~Follow the person(s) who gave you the award. DONE!
~Link back to the person who gave you the award. DONE!
I will post more bloggers when I find them! I am off to explore the blog hop! :) Happy Blogging!