Technology is an integral part of life in our family. We have computers, Kindles, iPods, and smartphones. The internet stays at our fingertips most of the time, except of course recently when I couldn't even get a cell signal out in the boonies. When given the opportunity to review computer instruction for kids that would result in a webpage, I jumped on the chance! The review today will be about the
Let's Make a Webpage
e-book by
Motherboard Books
.

Description
This 60 page e-book teaches your child how to create a web-page in a simplistic manner. Using a free trial software, students learn how to create their own web page project from the ground up. It is written for someone with no prior experience and relies heavily on the software for the specifics such as html and coding.
Routine
This was a very easy review. After downloading the software, I simply needed to print the e-book, place in a binder, and hand it to my girls. They worked together to walk through the process. I needed to offer very little support as they are both technologically minded and not afraid to jump into something new!
Good to Know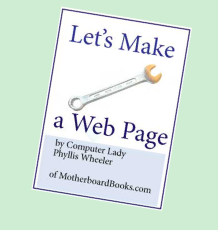 The e-book is 60 pages and written for 8-12 year olds. (However, depending on your child, this could be completed by those younger or older depending on technology experience.)
You can purchase the book for $19.95 online and download straight to your computer.
You will need to download Coffee Cup, a webpage editor to create a lesson project. The program that they use to complete it is simply a free trial so future projects could be difficult to complete.
My Thoughts
This project was a fun starting point for webpage design. It allowed the girls to create something and share online with family. Creating and publishing was fun for them. My only concern from a teacher's standpoint is that they are taught using a particular free trial software. If unable to keep permanently, I cannot assign future projects in which they use the same procedure. Check out other reviews from my blogging buddies by clicking the link below!